Forthcoming, and in progress: The Peach Orchard & Other Stories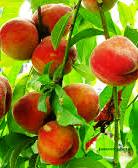 I am presently working on a new collection of short stories, provisionally titled The Peach Orchard & Other Stories.
I have always been a keen reader of short stories, and generally fascinated by short fiction, ever since the early 1970s. Since that time, 21 of my own stories have been published in journals and magazines. I have also edited several anthologies of new Australian short fiction.
This new book, however, will be a first collection of my own work. And it will certainly contain five very recent stories, That Summer at Manly, The Red One, Her Ladyship's Pleasure, The Beach of Pink Shells and Through a Latte Darkly, all of which were short-listed or noticed in various competitions, and subsequently published online or in anthologies (for details and links, see the Latest Posts and Publications section of this website).
Again, watch this space. I will post further details developments as they happen. (Pic plucked from internet. Thanks.)