Forthcoming: Blood Plums and Other Stories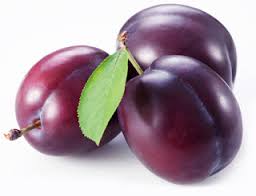 I am presently working on a new collection of short stories, the first collection of my own work, provisionally titled Blood Plums and Other Stories. For more details and recently published stories, see:
http://www.johnjenkins.com.au/j2016/index.php/short-stories
I have been a keen reader of short stories, and generally fascinated by short fiction, ever since the early 1970s. Since that time, 26 of my own stories have been published in various magazines or online. I have also edited several anthologies of new Australian short fiction. See below:
***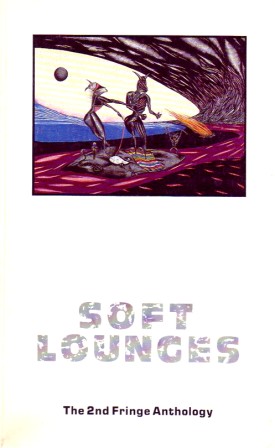 Soft Lounges, the 2nd Fringe Anthology, co-edited by John Jenkins and Antonia Bruns (Fringe Network/Champion Books, 1984). 160pp, illus. ISBN 0959240217.
* A determinedly adventurous anthology, still makes subsequent collections of 'progressive' work look tame. Now extremely rare, and a collector's item. You might be lucky and find one for sale on the web via second hand book networks. If you do, snap it up - you won't be disappointed.
* Cut-ups, graphics-plus-text, poems, concrete poems, short fiction, drawings, hybrid prose and unclassifiable works by Pete Spence, Ernie Althoff, Ted Hopkins, Valerie Kirwan, Paul Greene, Rob Finlayson, Carmel Bird, Antoni Jach, Berni Janssen, Ania Walwicz, Peter Lyssiotis, Tobsha Lerner, Komninos Zervos, George Mihcelakakis, Raphael Pomian, Giovanni Della Bosca, Sue Byrne, Jeff Maynard, Arden Ansal, Robert Whyte, Johannes Ambrose, Dimitri Tzoumacas, John Howard (the actor, not the ex Liberal Prime Minister!), Marcus Breen, Susan Hawthorne, Jennifer Mackenzie, Dianna Corr, Ann Stocker, Antonia Bruns, Clare Fleming, George Vassilacopoulos.
***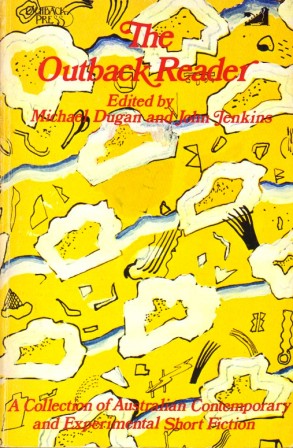 The Outback Reader, a Collection of Australian Contemporary and Experimental Short Fiction, co-edited by John Jenkins and Michael Dugan (Outback Press, 1975).Paperback, 208pp, ISBN 0868880035.
* A glittering showcase of radically innovative short fiction from the mid 1970s, by: Walter Billeter, Frank Moorehouse, Kris Hemensley, Michael Wilding, Colin Talbot, Vicki Vidikas, Robert Kenny, Alan Marshall, David Miller, Phillip Edmonds, Mark Gillespie, Terry Gillmore, Johnny Goodall, John Jenkins, Murray Jennings, Carmel Kelly, David Parsons, Damien White. Now extremely rare, and a collector's item. You just might find a copy via online 2nd-hand book networks. If you do, snap it up, it's a bargain.