Latest Posts & Publications
Welcome to my website. Updated: August, 2017.)
My most recently published pieces of individual work are listed here. To see major book-length projects I am working on, go to the main menu categories above. (Note: some of the work listed below may be included in new projects.)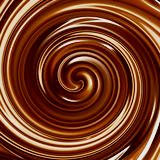 I am exceedingly chuffed that my short story, Through a Latte Darkly, has been shortlisted in the annual Margaret River Press Short Story Competition, and now published with 16 other gems in Joiner Bay & Other Stories. This is a prestigious competition, and the anthology is beautifully produced and of very high quality. The anthology recently received a well-attended Vic. launch at Readings Bookshop in Carlton.
Available now!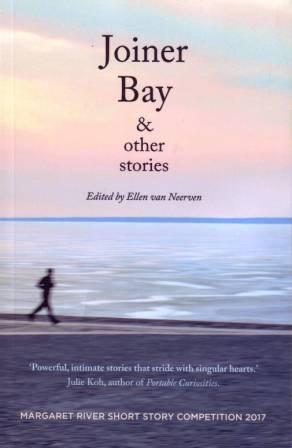 See: http://margaretriverpress.com/news/current-news/margaret-river-short-story-competition-shortlist-2/
For interested readers, I have been given a short 'DAY IN THE LIFE OF A WRITER' post on MRP's website. See: https://margaretriverpress.com/news/current-news/a-day-in-the-life-of-a-writer/ Also, see: http://margaretriverpress.com/news/current-news/the-great-leap-forward-john-jenkins/
My short story, That Summer at Manly, was previously published in the excellent MRP 2013 prize anthology, Knitting and Other Stories, and received a highly astute review by Anne Skyvington, who exactly understood what I was trying to do with that particular piece. For Anne's summary, see:
http://margaretriverpress.com/index.php/news/archived-news/anne-skyvington-reviews-knitting-and-other-stories/
July 2017: I was very happy to be short-listed for the 2017 Alan Marshall Short Story Award, the winners of which were announced on July 29. There are many entrants to this competition, from all over Australia. (Way back in 2005 I was judge of this competition and remember being impressed by the standard of entries. An anthology titled Illuminations, edited by Rachel Hennessy was published by Nillumbik Shire Council in 2011, containing winning stories, judge's reports and results for years 2003-2010. This anthology was beautifully produced and and is well worth finding.) There is a current pamphlet publication for 2017 winners and results.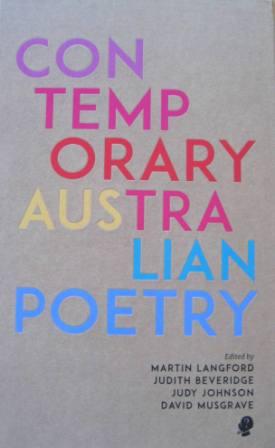 2016:
My cautionary poem 'Mr Menzies Shows Me My File' from Growing Up with Mr Menzies is included in the recent anthology titled Contemporary Australian Poetry, edited by Martin Langford, Judith Beveridge, Judy Johnson and David Musgrave; published by Puncher and Wattmann, 2016: available from all good bookshops or via the publisher, at:
https://puncherandwattmann.com/about/contemporary-australian-poetry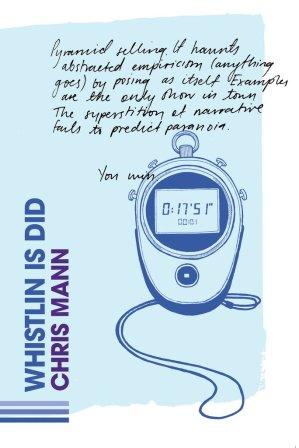 2016: I recentyly had the pleasure of writing the introduction to a new book by Chris Mann: his thoughtful, challenging and often very funny Whistlin is Did, published by Cordite Books (2016). My intro can be read in full at the following: http://cordite.org.au/guncotton/jenkins-mann/ And for more info on the versatile Mann, see a chapter from my 1988 compilation, 22 Contemporary Australian Composers: http://www.rainerlinz.net/NMA/22CAC/mann.html
Nov. 2016. It was a privilege to judge the Melbourne Poets Union (MPU) International Poetry Competition for that year. An extract from my judge's report was published in the MPU news bulletin, Poam (No. 358, Feb./March 2017).
Previously, I was Winner of the 2013 MPU Competition for my poem When He Read the Poem in the Room Above the Stairs, and also a second prize winner and commended shortlist-ee in previous years. Now I have a fair understanding of prizes, from both sides of the fence: simply, that entrants should develop a very thick skin, and remember that 'persistance furthers'; while judges have to read very carefully only what is put in front of them and then, as the old saying goes, just call it as you see it. For a little more on all this, and with a local twist for me, see: http://warrandytediary.com.au/tag/melbourne-poets-union-international-poetry-competition/
Nov. 2016 was a busy and pleasant time, and a pleasure for me to launch Debbi Hamilton's fine collection of poems, The Sly Night Creatures of Desire (Hybrid Publishers 2016). This was in the salubrious surrounds of a Carlton (Victoria) Italian restaurant, attended by Debi's partner, friends, children and well-wishers. My launch speech can be read at Rochford Street Review, generally an excellent place to catch up with all things literary in Oz: https://rochfordstreetreview.com/2016/11/29/subtle-multiple-implications-john-jenkins-launches-the-sly-night-creatures-of-desire-by-debi-hamilton/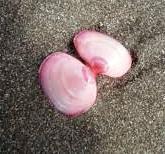 2015/16 My The Beach of Pink Shells, a scifi/fantasy short story, was shortlisted in the competition held by the The International SciFi Film Festival, held in 2015 in Paramatta,NSW, and published on the Festval's website. See: http://scififilmfestival.com/2015/11/17/the-beach-of-pink-shells-john-jenkins/Young lovers meet on a deserted beach. But is it deserted and what does 'meeting' mean in the context of 'vast time'?
2002 - 2016/7 I am delighted that Travellers Tales of Old Cuba, ed. John Jenkins, 2002/2010/2014/2016 is still selling very well after going into several editions, the most recent in 2016. Published by Ocean Press. See the Books (non-fiction) section of this website for more details. Available via all good bookshops in Australia and internationally.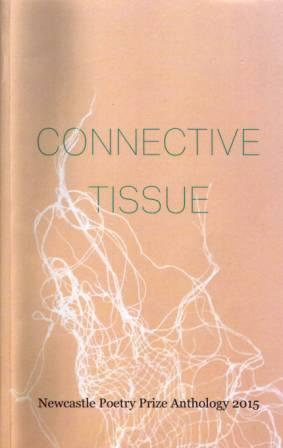 2015 My two long poems, 'Charles Dodgson in Cheshire' and 'The Tent at Evening' were shortlisted and published in Connective Tissue, The Newcastle Poetry Prize Anthology 2015. For more on this prestigious prize, visit Hunter Writers Centre, at http://www.hunterwriterscentre.org/newcastle-poetry-prize.html
I am very fond of these two long narrative/dramatic poems, one an homage to Charles Dodgson (Lewis Carroll) and the other about a dazzlingly formidable woman of the circus.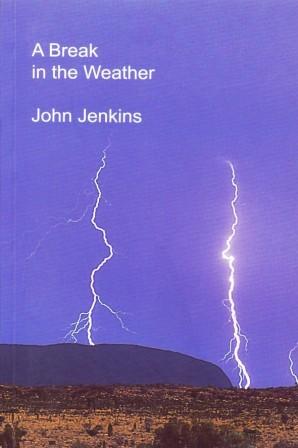 2015 Two of my now out of print poetry books, A Break in the Weather and Dark River are now available FREE in an advanced, Kindle-friendly digital format, from FreedReads: http://freedreads.com/free-poetry-plays-screenplays-books See also the Poetry (books) menus of this website: http://www.johnjenkins.com.au/j2016/index.php/books/poetry.
Also the free pdf downloads of several other now-out-of-print books on my site's Home Page.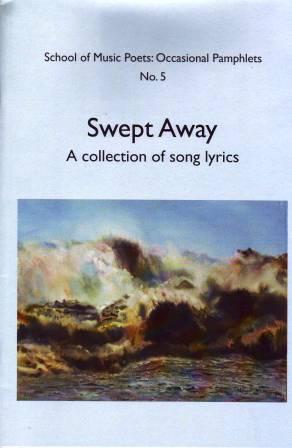 2015 Four of my songs, or lyrics for same, were published in Swept Away: A collection of song lyrics, published in 2015 by The School of Music at the Australian National University, Canberra. See:https://sompoets.wordpress.com/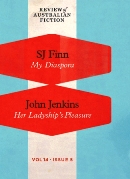 2015 Her Ladyship's Pleasureis a sci-fi fantasy short story, full of conceptual play and set in the very near future. My story appears in the Review of Australian Fiction, an excellent and exciting new venture in ebook format featuring stories by some of Australia's best new and well-known writers. See: http://reviewofaustralianfiction.com/
Her ladyship is always nothing if not resourceful. So boring to be just one person, so why not be three people? And as for their particular time and place... well, that's also negotiable.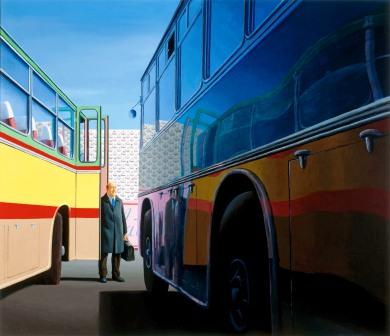 2015 My poem titled 'The Traveller, 1973, Jeffrey Smart', was shortlisted (fourth) for the Griffith University Josephine Ulrick Poetry Prize 2015. This poem refers to a well-known painting by Jeffrey Smart, but is not strictly ekphrastic, as it then goes on to consider the anonymity of constant world travel, and the existential predicament of the reflective and brooding subject of my poem, who is a constant world traveller. See: http://walleahpress.com.au/garradunga/2015-shortlists-for-the-josephine-ulrick-literary-prizes/
2014 and earlier: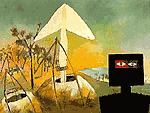 My poem titled 'Kelly at The Mines (1948)', first commissioned by Heide Gallerty to accompany an exhibition showcasing narrative in Australian art, was Highly Commended in the FAW John Shaw Neilson Poetry Award, part of the Fellowship of Australian Writers 2014 FAW National Literary Awards. My poem is a response to Sidney Nolan's famous Ned Kelly series. See: http://writers.asn.au/wp-content/uploads/2015/04/2014-FAW-National-Literary-Awards-Results.pdf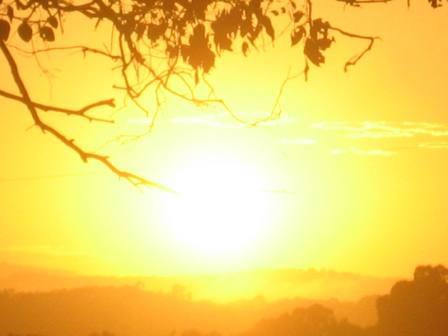 My new one-act play, Heaven HQ, a sort of absurdist celestial comedy, was Commended in the FAW Di Cranston Award given for a new stage or radio play, television script or screenplay, and part of the Fellowship of Australian Writers 2014 FAW National Literary Awards. See: http://writers.asn.au/wp-content/uploads/2015/04/2014-FAW-National-Literary-Awards-Results.pdf See also under the Plays menu category of this site.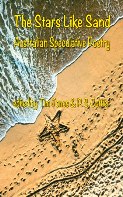 Three of my poems,'Tea and Stars', 'Spaceclown Reading' and 'A Star Appears',were published in Stars Like Sand: Australian Speculative Poetry (Interactive Press, 2014), a terrific anthology of Australian sci-fi and speculative poetry. For copies of this excellent anthology: http://ipoz.biz/Titles/SLS.htm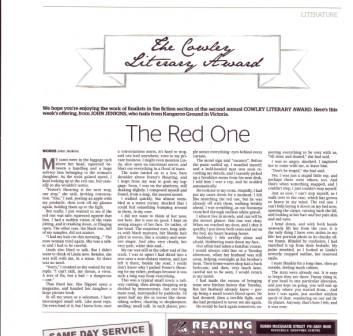 December, 2014. My short story titled 'The Red One', completed in early 2014, was shortlisted for the Cowley Literary Awards, and published in the Dubbo Weekender newspaper (see left) and then on the Cowley website. See: http://www.australianartsales.com.au/cowley-awardIt's just more trains and motels for a travelling salesman, particularly one with an uneasy secret. But small towns always have someone looking through some window. This is a link to a free pdf of this story.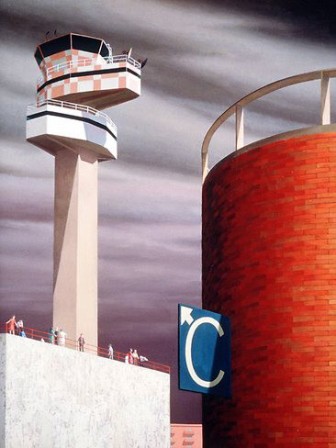 Major Essay. March 12, 2014. 'Jeffrey Smart (1921 - 2013), a painter's eye to poetry and story; through thirteen key works from 1962 to 2011'. This essay has been specially written for the 'Long Paddock', the online edition of Southerly journal number 73.3, at http://southerlyjournal.com.au/long-paddock/ Smart had a life-long love of poetry and writing, and this essay is a tribute to that interest, and also to his work as one of Australia's leading painters.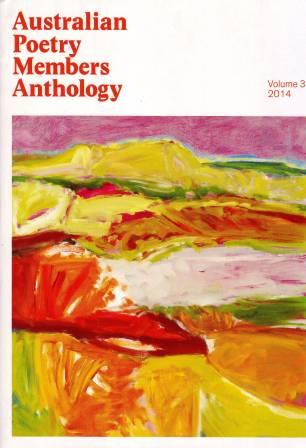 Winner, 19th Melbourne Poet's Union international poetry prize 2013: 'When he read the poem in the room above the stairs'. https://melbournepoetsunion.wordpress.com/2013/12/10/mpu-international-competition-winning-poem/ It was also subsequently published in Australian Poetry Members Anthology, Vol. 3, 2014.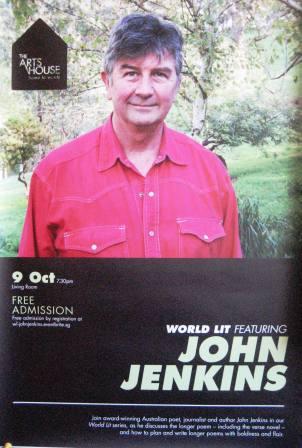 In October 2014, I had the pleasure of being hosted by The Arts House, Singapore as part of their World Lit series of visiting international writers. The Arts House has a lively and varied program, in the arts-transformed Old Parliament House, close to Singapore River. See: https://www.theartshouse.sg/programmes/
My poem 'The Man Who Lost Himself', which light-heartedly explores the pathos of dementia, was re-published in 2014 in Memory Weaving: An Anthology of Dementia Journeys: http://www.poeticachristi.org.au/Circumnavigation_Memory%20Weaving.html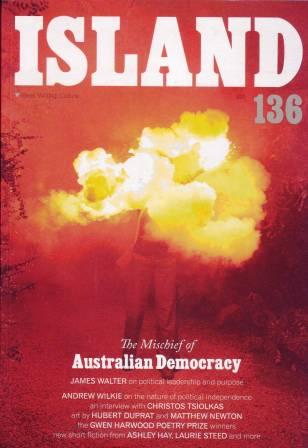 My two poems, 'The Rabbit Proof Sonnet', and 'Freeway, flyover and back' were published in 2014 in Island Magazine (Issue No.136) after they won second and third prize, respectively, in the national Gwen Harwood Poetry Prize. See: http://islandmag.com/issues/island-136-autumn-2014/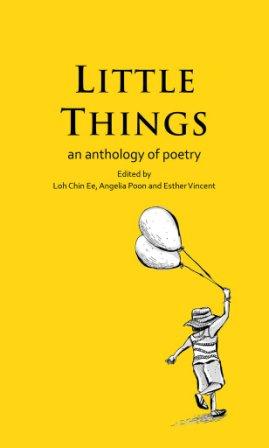 'I Can read Now', my poem from Growing Up with Mr Menzies is included in the charming anthology, Little Things: An Anthology of Poetry, edited by Loh Chin Ee, Angelia Poon and Esther Vincent, published by Ethos Books, Singapore, 2013. Available from good bookshops or via the publisher, at: https://www.ethosbooks.com.sg/products/little-things-an-anthology-of-poetry
December 28, 2013. The poem titled A Walk was included in Summer Journeys: Perambulations, as part of the ABC Radio National's 'Poetica' series. (Unfortunately, Poetica has been discontinued on RN, but their website has much excellent archival material: http://www.abc.net.au/radionational/programs/poetica/perambulations/4816814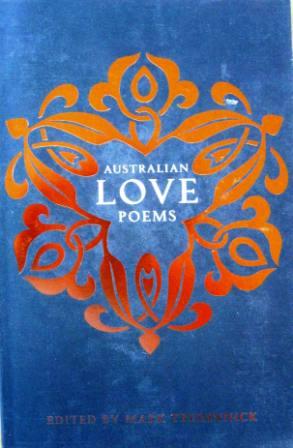 My competition short-listed poem, 'Henri Matisse, Spring Studio, Nice', is included in Australian Love Poems, edited by Mark Tredinnick, published by Inkerman and Blunt, 2013/14; both editions now out of print, but may be available from Collected Works Bookshop, Melbourne: https://www.facebook.com/Collected-Works-Bookshop-175023895845165/
April 29, 2013: See video of my TEDxtalk presented at Melbourne University: "A Journey Through Marvellous Melbourne":https://www.youtube.com/watch?v=A_CMYus5-RI&list=PLsRNoUx8w3rPGapSSP5xR8Lcj2yXJSg5m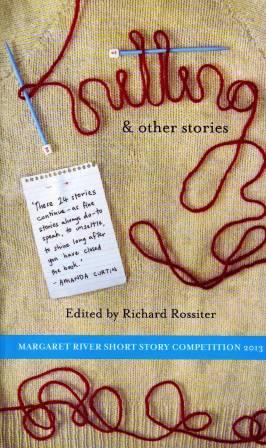 A new short story titled That Summer at Manly was shortlisted for the 2013 Margaret River Short Story Competition, and published in Knitting and Other Stories (ed. Richard Rossiter, Margaret River Press, 2013). Order this lively anthology via all good bookshops, or from the publisher, at: http://www.margaretriverpress.com/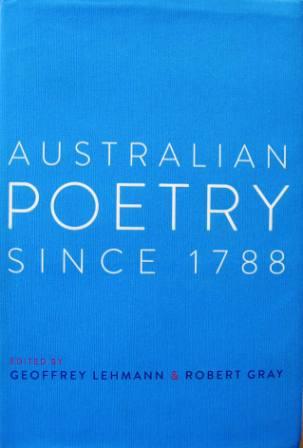 My award-winning poem, 'Cold Press' is included in Australian Poetry Since 1788,
edited by Geoffrey Lehmann and Robert Gray, published by New South Books, 2011: still available via good bookshops or from the publisher at:
https://www.newsouthbooks.com.au/books/australian-poetry-since-1788/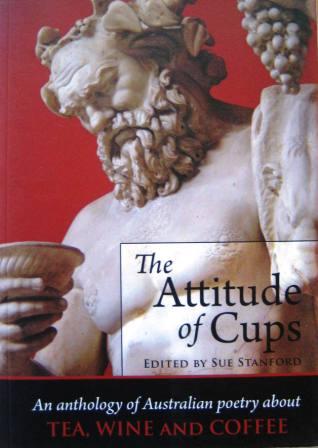 My poem 'Long Black' is included in The Attitude of Cups, edited by Sue Stanford; published by MPU, 2011. Now out of print, but may be available from Collected Works Bookshop, Melbourne: https://www.facebook.com/Collected-Works-Bookshop-175023895845165/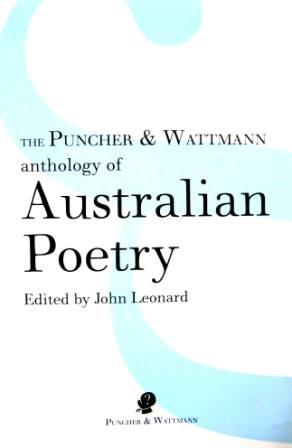 Two of my poems from Growing Up with Mr Menzies, 'Six O'clock Swill' and 'Push this Wall Back' are included in The Puncher and Wattmann Anthology of Australian Poetry, ed. John Leonard, 2009; still available from good bookshops or via the publisher at: https://puncherandwattmann.com/books/book/the-puncher-and-wattmann-anthology-of-australian-poetry/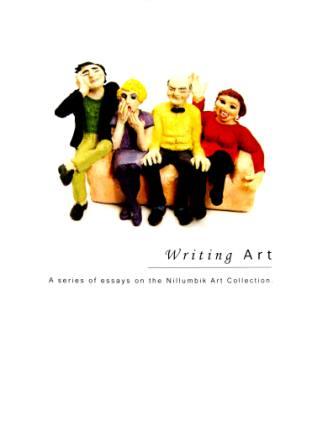 My essay on decorative and place-marking sculpture is in Writing Art: a series of essays on the Nillumbik Art Collection, ed. Chris Marks, published by Nillumbik Shire Council, 2006: now out of print, but may be available from some libraries, see: http://trove.nla.gov.au/work/167157934?selectedversion=NBD49211542
My work goes back to 1970, and the above is just a more recentish sampler. For a much more comprehensive list, go to the Austlit website, at: https://www.austlit.edu.au/ or consult TROVE (Aust. Nat. Library database) at: http://trove.nla.gov.au/