JOHN JENKINS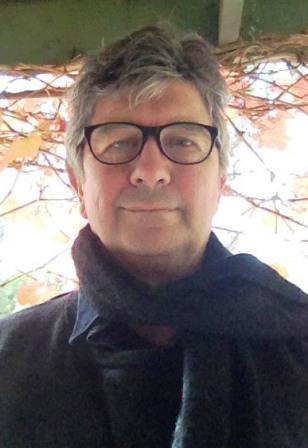 CONTACT

** Welcome to my home-made website. UPDATED August 2023:
Postal Address: John Jenkins, C/- Post Office, Kangaroo Ground, Victoria 3097 Australia.
About:
John Jenkins is a widely published Australian writer of poetry, short fiction, essays and general non-fiction.
He is presently working on a number of projects, some listed on this site.
***You can now find a full and comprehensive bio (new!) by scrolling down to the end of this page.
John has lived and worked in several countries, taught masterclasses at home and overseas, and won a number of prestigious literary awards. He was born in Melbourne, and lived in Sydney from 1974 to 1978 before returning to his home city. A former journalist, now living on the rural fringe of Melbourne, John has worked extensively in both commercial and literary magazine publishing, on metro and local newspapers, some radio and a little TV. He has also worked as a teacher, book editor and sessional academic. He is the author, editor, co-author or co-editor of 24 books, with several more now waiting in the wings. He is currently working on a collection of short stories. For more details, see the Latest Posts and Publications and Short Stories sections of this website.
On this website, the main emphasis is on newest writing projects, works in progress and recent publications.
Newest books:
A Double Act, the Selected co-written poems of John Jenkins and Ken Bolton is now available from Puncher and Wattmann, see https://puncherandwattmann.com/product/a-double-act-the-selected-collaborative-poems/
John's 2022 poetry collection, The Sky Inside Us, has just been published by Ginninderra. Its 108 pages contains new and previously unpublished poems – many written (almost) yesterday. That said, a sparkling sprinkle date back to the 1960s and 1970s.
See: https://www.ginninderrapress.com.au/store.php?product/page/2401/John+Jenkins+%2F+The+Sky+Inside+Us
His 2019 collection of poetry Poems Far and Wide is published by Australian literary publisher Puncher & Wattmann: https://puncherandwattmann.com/product/poems-far-and-wide/ For more details, also see the Latest Posts and Publications and Poetry sections of this website.
One of the pieces from Poems Far and Wide that has proven very popular is The Wedgetails, the first few lines of which are printed below:
The Wedgetails
Order Falconiformes, family Accipitridae, diurnal raptor;
for traditional Wurundjeri people, 'Bunjil' is the ancestral creator
Eagles!
In high summer's dreaming light,
upswept on breezy thermals,
three circle whitewashed trees,
leaf-crowns seethe on northerlies,
three dots melt above the green,
as spring grass bends and new life darts,
their curved-wide wings enfold
the earth's far sides,
on whisperings, on slip-rimmed stealth.
As smaller ground-hugging birds erupt –
warning shrieks from silver crowns!
Choughs and currawongs harass great shapes,
soaring to a higher clip above muyan, silver wattle.
Clouds float above
the morning shimmer-gloss
where a liquid ribbon threads low hills.
Three melt over Yarra Valley dazzle-pools –
billabongs prinked with biel, the river red gum...
***
See: https://puncherandwattmann.com/product/poems-far-and-wide/ (where my book is now listed). And: https://www.newsouthbooks.com.au/books/poems-far-and-wide/
***
John has also recently written and illustrated a book of silly scribbles and nonsense poems, A Half-Baked Fruitcake of Nuts and Nonsense. See: https://booko.com.au/9781922465658/A-Half-Baked-Fruitcake-of-Nuts-and-Nonsense-Silly-stuff-for-kids-of-all-ages
My short story Shadow Dancing is the latest to be published – in P76 Magazine, Number 8, the Sonic Poetry Festival Edition, Spring 2023. And Shadow Dancing is a humorous fantasy love story set in Newcastle, NSW, about a dancer smitten with his partner Luna, and eagerly awaiting her return. P76 is full of much interesting material, available from Rochford Press, see: https://rochford-pressbookshop.square.site/product/p76-issue-8-sonic-poetry-festival-special-issue/164?cp=true&sa=true&sbp=false&q=false
Some free stuff:
Readers, please scroll down below, to find free sound files and free short stories for children....
Notes: For those who have asked... my home page pic was taken from a balcony overlooking terraced high country of Sapa, Vietnam, about 350 km north of Hanoi, while on a week-long and very enjoyable walk.
*** A restoration for celebration! My essay on Australian painter Jeffrey Smart, titled Jeffrey Smart (1921-2013): a painter's eye to poetry and story, originally published Nov. 3, 2013, in the Long Paddock section of Southerly Literary journal (issue 73.3, titled 'The Naked Writer') has now been restored to the new Southerly website, and you can directly access it here: first, go to https://southerlylitmag.com.au/long-paddock-for-southerly-73-3-the-naked-writer/ then scroll down to The Long Paddock, ESSAY heading, and there it is!
Now scroll down for more Free files, below. Followed by two Free stories for children
Sound Files: Free Free Free Download. Over the years, I have dabbled a little in music and song writing. And interested people can download eight sound files below. They are parts of a piece I have titled The Four (and a half) Seasons. I composed this work quite recently, and it contains natural sounds sampled from my place in Kangararoo Ground, Victoria. Firstly, I played the piano parts on an acoustic piano; next, I treated them electronically; and finally combined the treated piano with the natural sounds I had recorded. Two of the eight sections also contain fragments of sampled and treated recordings from other players/musicians (one from Oz composer Syd Clayton; while another has treated parts of a Tchaikovsky symphony). The parts of my Four (and a half) Seasons for you to download, are as follows: 1. Slow shimmer in summer, frogs, birds, piano. 2. Autumn warm to cool. 3. Syd Clayton and winter rain. 4. Spring, the tempo quickens. 5. Summer night, piano, eagle cry. 6. Summer evening calls, sampled and treated vinyl, crickets. 7. If it quacks like a duck, and walks like a duck... 8. Slow shimmer in summer, returning.
Also Free, please find two short stories for children, Cathy's Cloud and A Hairy Story, illus. by JJ.
Simply click on this link: A Hairy Story
More for FREE... Here is an extract from my nonsense book:
Illustration below by JJ.
Marcel the Poodle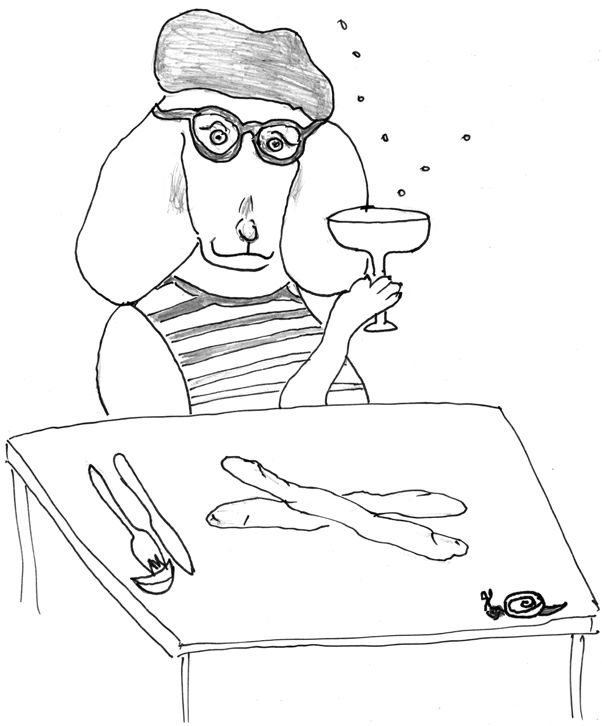 Marcel the poodle
Ate oodles of noodles
And haute cuisine
From his fork.
He wolfed down croissants,
Soufflé and poulet
And duos of baguettes
Served with pork. 
"It's a mere bagatelle
To dine out so well,"
Said stylish Marcel
Looking great.
"A true gourmet like me
Has éclairs with tea
Plus a big pile of snails 
On his plate. 
And I'm fond of fondue
Or a gateau or two
With a bowl of French fries
Till I'm sate."
With a glass in his paw
Marcel poured himself more
Bordeaux red and some fizzy champagne,
Then he sniffed and he licked AND HE ATE!
***
***NEW! John Jenkins, Bio:
John Jenkins is a widely published and anthologized poet and author. Born in Melbourne in 1949, he lived in Sydney after1974 before returning to Victoria in 1978/9. John has traveled extensively and now lives in Kangaroo Ground, a semi-rural outer suburb of Melbourne.
Prizes, residencies, fellowships:
John was Open Winner of the 2018 Elyne Mitchell Writing Award for his short story, The Girl Who Wasn't There.
He was featured in 2014 as part of the World Lit teaching and reading series hosted by The Arts House, Singapore.
He won the 2013 Melbourne Poets Union International Poetry Prize, and 2003 Arts Rush/Shoalhaven Poetry Prize.
In 2004 he was winner of the International James Joyce Foundation Suspended Sentence Fellowship for his long dramatic poem, Under The Shaded Blossom, which included reading and teaching sessions at the Irish Writers Centre, Dublin.
He was Commended for a play entered in the 2014 Fellowship of Australian Writers Di Cranston Award; and won Second and Third Prize in the 2013 Gwen Harwood Poetry Prize.
In 2005, John produced a new poetry manuscript while the recipient of a grant from Arts Victoria. He was recipient of Literature Board Australia Council Grants in 1973, 1974, 1994 and 1997. John has also been short-listed for numerous individual poetry and/or short story competitions.
*
PUBLICATIONS:
Poetry collections:
The Sky Inside Us, Ginninderra, 2023.
Poems Far and Wide, Puncher and Wattmann, 2019.
Growing Up With Mr Menzies, John Leonard Press, 2008.
Dark River, Five Islands Press, 2003.
Days Like Air, Modern Writing Press, 1992.
The Wild White Sea, Little Esther, 1990.
Chromatic Cargoes, Post Neo, 1986.
The Inland Sea, Brunswick Hills Press, 1984.
Blind Spot, Makar, 1977.
Zone Of The White Wolf and Other Landscapes, Contempa, 1974.
Verse novels:
A Break in The Weather (sole author), Modern Writing Press, 2003; subsequently Commended in the 2004 FAW Christina Stead Book Award.
Poetry collections, co-written with Ken Bolton:
A Double Act, Selected Collaborations, Puncher and Wattmann, 2023
Lucky For Some, Little Esther, 2012
Poems of Relative Unlikelihood, Little Esther, 2005.
Nutters Without Fetters, PressPress, 2002.
The Wallah Group, Little Esther, 2001.
The Gutman Variations, Little Esther, 1993.
Airborne Dogs and Other Collaborations, Brunswick Hills Press, 1988.
Verse novels, co-written with Ken Bolton:
Gwendolyn Windswept (co-written with Ken Bolton) serialized in Otis Rush magazine, Nos 9 to 13, 1994/5.
The Ferrara Poems (co-written with Ken Bolton) Experimental Art Foundation (S.A.) 1989.
Film-script, co-written with Ken Bolton:
Co-author (with Ken Bolton) of film-script for The Ferrara Poems, directed by Jenny Robertson, premier at Frames International Festival of Video and Film, Adelaide, 1990.)
Fictional biography, co-written with Robert Harris:
The Arthur Tantrum Letters, Stitch and Time, 1975.
Short fiction, anthologized:
John has had many short stories published, and anthologized in Joiner Bay & Other Stories (ed. Van Neerven, Margaret River Press, 2017); Knitting & Other Stories (ed. Rossiter, Margaret River Press, 2013); SciFi Film Festival Stories (online, http://scififilmfestival.com/2015/11/17); The Dubbo Weekender and many others.
John is currently completing several short story/novella collections, with publication details to be announced.
Fiction Anthologies:
Soft Lounges (co-editor with Antonia Bruns) Melbourne Fringe Festival/Champion Books, 1984.
The Outback Reader (co-editor with Michael Dugan), Outback Press, 1975.
Dreamrobe Embroideries and Asparagus for Dinner (co-editor with Walter Billeter) The Paper Castle, 1974.
Cheeries & Quartermasters (co-editor with David Miller) The Paper Castle, 1975.
Non-fiction:
Travelers' Tales of Old Cuba (editor), Ocean Press, 2002, revised edition 2010.
Found About: Art in Public Places; Chapter 6 of Writing Art, A Series Of Essays On the Nillumbik Art Collection, Nillumbik Shire Council, 2006.
Arias: Recent Australian Music Theatre (co-writer, with Rainer Linz), Red House Editions, 1997.
22 Australian Contemporary Composers (writer/editor) New Music Articles, 1988.
(Note: John is also currently completing a collection of essays, with title/publisher yet to be decided.)
Poems featured on radio:
John's poems have been broadcast on ABC Radio National's Poetica series, in 2003, 2006, 2010, 2012 and 2014; and on Radio 5UV and elsewhere. 'Dark River (2006)' audio can still be accessed online. See: https://www.abc.net.au/radionational/archived/poetica/john-jenkins-dark-river/3334390
Radio plays:
Under The Shaded Blossom (scripted by John Jenkins, ABC Radio National Airplay series, 2006). See: https://www.abc.net.au/radionational/archived/airplay/under-the-shaded-blossom/3333318
Open Your Eyes, Exercise (co-scripted with Rainer Linz, Radio 3RRR, Melbourne, 1991).
Poetry, anthologized:
John's poems are anthologized in: Ashbery Mode (ed. Farrell, TinFish Books Hawaii, 2019); Contemporary Australian Poetry (eds. Langford, Beveridge, Johnson, Musgrave, Puncher & Wattmann, 2016); The Stars Like Sand (eds. Jones and Cottier, Interactive Press, 2014); Australian Poetry Members Anthology, The Feast of Identity (Vol. 3, eds. Langford and Dougan, AP, 2014); Memory Weaving (ed Vimpani, Poetica Christi Press, 2014); Little Things, an Anthology of Poetry (ed. Loh Chin Ea, Ethos Books Singapore, 2013); The Best Australian Poems 2012 (ed. Tranter, Black Inc., 2012);Sense, Shape and Symbol, an Investigation of Australian Poetry (ed. Keyte, Phoenix Education, 2012); Australian Poetry Since 1788 (eds. Lehmann and Gray, UNSW Press 2011);The Puncher & Wattmann Anthology of Australian Poetry (ed. Leonard, Puncher & Wattmann, 2009); Reflecting on Melbourne (eds. Fernando and Sietzema-Dickson, Poetica Christi Press, 2009); The Best Australian Poetry 2008 (ed. Brooks, UQP, 2008):The Honey Fills the Cone, 2006 Newcastle Poetry Prize Anthology (eds. Beveridge, Harrison, Talbot, NPP, 2006); Said the Rat! Writers at the Water Rat 2000 - 2002 (eds. Harrison and Ilton, Black Pepper, 2003); The Temperament of Generations (eds. Lee, Mead and Murnane, MUP, 1990); and many others. He has also had poems published in numerous journals, magazines and online, including Heat, Overland, Meanjin, Scripsi, Otis Rush, Salt, Heat, The Age Monthly Review, Southerly, Island and many others.
Editorial work on Australian Literary Journals:
Intermittent Associate Editor Overland Magazine, 1990-1995.
Assistant editor Helix Magazine (Melbourne, 1983-85).
Co-editor of Australian literary journal Aspect: Art and Literature (Sydney, 1976-78).
Circa 1968, John also edited A and Aardvark, two short-lived 'little magazines'; then in the mid 1970s co-edited (with Walter Billeter) Etymspheres: The Journal from the Paper Castle.
Libretto:
Play for Voices (libretto, for music composed by Richard Vella, first performed by Melbourne Astra Choir, 1981).
Theatre:
Since the late 1970s, John has written for, and/or performed in, a number of live theatre events at La Mama Theatre, Grant Street Theatre (with the Modern Dance Ensemble), The Comedy Club (with musician/performer Kim Bessant), Universal Theatre, Jolt Performance Space (all Melbourne), Performance Space (Castlemaine), Experimental Art Foundation (Adelaide) and Central Street Gallery (Sydney).
Song writing and recording:
Waiting for Manana: words John Jenkins, music Kim Bessant & Friends, 4T Cassettes,1991 (updated and republished as a CD, Walking Upright, 2000).
Journalism:
John has worked as a feature writer, copy-editor, layout sub-editor and production editor for the following publishers, newspapers and magazines:
Magazine companies: Sungravure, Sydney, on various in-house magazines.
Pacific Publications (formerly Southdown Press), Melbourne, on various magazines including special Logies editions and presentations for TV Week.
Ansett Airlines, on Ansett News (staff newspaper) and the airline inflight magazines Golden Wing and Panorama.
Various corporate clients, such as Diners Club International (writing for/helping to produce Signature magazine), Medicare Private, Volvo and others.
Book editor: copy and structural editing for a number of Australian-based book publishers including Lonely Planet and Ocean Press.
Newspapers: John has worked for or been published by daily metropolitan and suburban newspapers, in both Sydney and Melbourne.
Over the past decades, John has also contributed numerous reviews, articles and essays to literary journals and commercial magazines, both in Australia and overseas. While living briefly in Japan, he wrote a series of articles about modern Japanese life, technology, culture and the arts for The Age Monthly Review. And while on a working holiday in London, he worked as a research assistant for the regional radios division of the BBC, and wrote theatre reviews for a local newspaper in Wales. His Up Close and Personal, a series of articles on new music and recent Australian composition, was published on the internet in 2005; and more recently, John has written book reviews and book launch speeches for online sites such as Rochford Street Review, Cordite, and others.
Literary Judge:
John was judge of the Melbourne Poets Union International Poetry prize in 2016.
He was on the judging panel for the 2010 Arts ACT Poetry Award in 2011; and for the Newcastle Poetry Prize in 2007.
John was poetry judge of the Ellen Gudrun Kaston literary Awards for the Shire of Nillumbik in 2007-9; and 2005 judge of the Shire's Alan Marshall Short Story Award.
John was judge for The Fellowship of Australian Writers John Shaw Neilson national poetry competition in both 1999 and 2000; and one of three judges for the Victorian Premier's Literary Awards Diabetes Australia Prize for Innovative Writing in 1992.
Teaching in creative writing and related fields:
From 2005 to 2009 John taught at La Trobe University, in the university's School of Communication, Arts & Critical Enquiry, as part of La Trobe's Drama 2/3 course, working alongside the highly respected head of department and theatre critic Geoffrey Milne. At La Trobe, John presented a weekly, three-hour workshop-oriented lecture/seminar titled Persuasion and Public Speaking.
Intermittently, in 1994–1997; and then in 2002, 2005 and 2006, John taught sessional creative writing and professional writing at Box Hill Institute of TAFE (including non-fiction, short story, poetry and construction of English).
In 2003, as a sessional/single semester, John taught Aspects of Non-fiction Writing at Melbourne University's Creative Arts Faculty.
2001- 2018, intermittently throughout that time, John taught short courses in poetry, non-fiction writing and editing, at his local Neighbourhood House, in Warrandyte,Victoria.
In 2001/2002 John conducted writing workshops through the public education program of Heide Museum of Modern Art, Bulleen. And also gave guided floor talks and performances at Heidi Museum, to correspond with several key exhibitions, including the gallery's well attended Jeffrey Smart Retrospective and Australian Surrealism show.
In 2002 John gave applied writing 'Industry Talks' at Chisholm Inst. TAFE (Berwick and Frankston campuses).
1993: John presented workshops on literary magazines, at the Victorian Writers' Centre, Melbourne.
Here is a biographical sketch circa 2005:
John Jenkins was born in Melbourne in 1949, in the bayside suburb of Elwood, the youngest of two children. He was educated at Burwood Technical School and Box Hill High School and studied Business at the Swinburne Institute of Technology. Sometimes associated with the group of poets known as the 'Generation of '68', Jenkins was one of the first poets to read at Melbourne's famous La Mama theatre, and in the 1970s helped to write pop songs with various bands and musicians.His parents were specialty tailors who had a small shop, and made ceremonial outfits such as mayoral robes, bridal wear and ecclesiastical gowns. The family moved to Box Hill, which was then on the semi-rural fringe of a rapidly expanding suburbia, where John played along the landscapes and leafy flood plains of Gardeners Creek, a tributary of the Yarra sometimes depicted in Heidelberg School paintings.He worked for a publisher of children's books/ library supplier and took part in readings and performances in Melbourne. John's first book, Zone of the White Wolf, appeared in 1974, just before he moved to Sydney, where he lived on a small grant from the Australia Council.Shortly after settling in his new city, a collection of short experimental fiction, which he had co-edited with Michael Dugan, appeared in 1975. It was John's passport to meeting many of the Sydney literati, including Ken Bolton — who soon became a close friend.This was a heady and tumultuous era in Australian literary and social history, well documented in Frank Moorhouse's amusing record of the times, Days of Wine and Rage.John's second book of poems, Blind Spot, appeared in 1977; and he also began working as a journalist, first for a Sydney art journal and then a large commercial magazine company.John's moved frequently in Sydney, before travelling to Indonesia, then returned to Melbourne in 1979.Back in his home town, John began working with the musician Kim Bessant, and the dancer Margaret Norwood, forming a trio which performed in venues and theatres around the city — including La Mama, Grant Street, Comedy Club, the Universal and others. This was a happy and productive time, and it was through a series of creative collaborations that John met the dancer Shan Shnookal, and the two have been together ever since.They travelled together to London in 1981, where John worked as a research assistant for the BBC, in the Beeb's regional radio division. Later, he travelled throughout Europe.He also met many of the rising generation of new Australian composers, and wrote a libretto with composer Richard Vella, and several radio plays with his good and long-time friend the composer Rainer Linz.John's third book of poems, The Inland Sea, appeared in 1984; followed by several pamphlets and booklets of poems after 1986. He also co-edited a second collection of short fiction, published in 1984.Meanwhile, John had been working widely as a journalist, for a variety of magazines and newspapers, and in radio.He also travelled extensively, in SE Asia, China, Japan, India, Europe, the US and elsewhere, working on travel magazines and as a book editor.John's first non-fiction title, 22 Australian Composers, appeared in 1988; and his second, Arias: Recent Australian Music Theatre, in 1997. (See the website http://www.rainerlinz.net/NMA/upclose/ and the archive at http://www.rainerlinz.net/NMA/22CAC/TOC.html)A decade earlier, while John was visiting his old friend Ken Bolton in Adelaide, the two poets began writing a series of mysterious and wonderful poems, 'of unclassifiable genre'. These, and others that followed, found their way into Airborne Dogs, their first co-written book, published in 1988. Six more jointly authored books were to follow over a 14-year period, including their verse novel, The Ferrara Poems, which was made into a 40-minute film.Their most recent book is the 'wild but wise' tour-de-crazy from PressPress, Nutters Without Fetters (2002). And more are to come.In recent years, John has become a teacher of creative writing, while continuing to work as a poet, journalist and editor. Seven years ago, he moved to a 20-acre property in Kangaroo Ground, high on a ridge on the edge of the Yarra Valley, and with spectacular views to bush-clad Christmas Hills.In these expansive surroundings, he is neighbour to ducks, parrots, wedgetail eagles and up to 100 kangaroos grazing outside his house. He has three horses ('Rose of the Apocalypse', 'Inspector Kelly, retired' and 'The Gogomobile'). He takes some interest in equestrian sports, and more in local politics and conservation debates.In this new setting, John continues to have a distinguished writing and editing career. His verse novel, A Break in the Weather (Modern Writing Press), was short-listed for the 2003 FAW Christina Stead Award for fiction, and John was winner of the 2003 National Shoalhaven Poetry Prize.His most recent non-fiction title is Travelers' Tales of Old Cuba (Ocean Press, 2002) and his latest collection of poetry, Dark River, from Five Islands Press (2003). He has recently returned from teaching at the Irish Writers' Centre, Dublin, as 2004 winner of the James Joyce Foundation Suspended Sentence Award, and is presently (2005) working on a new manuscript of thematically-linked poems, and an unclassifiable non-fiction book about Australian shadows, rivers, landscapes and much besides.
For more recent information also see Auslit:
https://www.austlit.edu.au/austlit/search2/page?query=John+Jenkins&token=VnTpWFl&facetSampleSize=0&facetValuesSize=0&blendMax=y&count=50
Also: https://www.austlit.edu.au/austlit/page/A20818?mainTabTemplate=agentWorksBy&restrictToAgent=A20818
And Wikipedia:
https://en.wikipedia.org/wiki/John_Jenkins_(poet)
And Adfa.edu.au:
https://www.unsw.adfa.edu.au/special-collections/guide-papers-john-jenkins-mss-008
Also National Library, Trove:
https://trove.nla.gov.au/search/category/books?keyword=John%20Jenkins,%201949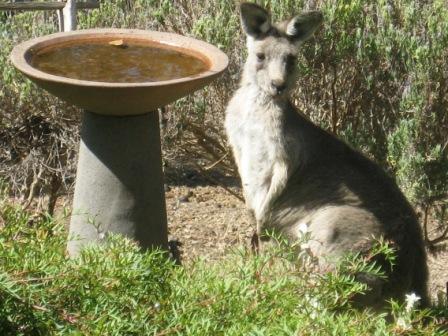 Cheers, John
Kanga at birdbath pic: JJ